Subtopia's trade fair Studiobar 2015 drew those who work behind the stage or camera in the businesses film, TV, event and music, together. During the event, three conversation panels were held on the topic of Studiobar 2015's theme Digital and Live. We got the opportunity to speak to some of the attending companies. What do they work with and why do they want to be a part of Studiobar? The range of the different businesses turned out to be wide, but they did share common interests.
Thomas Fliesberg, Scenteknik (exhibitor and main sponsor of Studiobar 2015)
– We are here to find new collaborations across business-borders. From Scenteknik you can rent sound and light technique and screens for events, expos or live music. Nowadays we work a lot with events and we would like to work more with the film industry. At Studiobar you also get a chance to talk to your colleagues and exchange experiences.
Malin Erkers and Adriana Paneva, Stockholm's Film Festival (exhibitors)
– We are attending Studiobar to present the business-part of Stockholm's Film Festival – our Industry Days. It is a three-days event with panel discussions, project presentations and cocktail-mingle and everyone or anyone in the film industry are welcome, says Malin.
– Earlier today we had an interesting conversation with a guy from the music industry. Even though we are from different businesses, working across business-borders is becoming increasingly common, adds Adriana.
Nils Bryntesson and Andreas Aldrin, Levande Video (visitors)
– Levande Video are video producers within the niche of live on web. We are a cooperative of five people and we have our basis here in Alby, says Nils.
– It is cool that something's happening that is within our field and this close to us too, says Andreas.
– I really look forward to the panel on the topic Live and the possibility of finding new collaborations. We have had a very rewarding conversation with the company that created the app Interaktiva Möten, which is something we could offer our customers, Nils adds.
Maria Rydén, Trygghetsrådet, TRS (visitor)
– Trygghetsrådet are just about to start a national pre-study with the title KROM, which stands for competence provision, movement and change within stage, music and film. I am here because the panel conversations apply to many of the questions that we will work with in the study. The film panel was rewarding. It was interesting to hear about the work that is going on with finding new distribution channels and financing models in the film industry. It is also something one needs to ponder within the other culture business.
Tomas Håvik, Preqbi (exhibitor)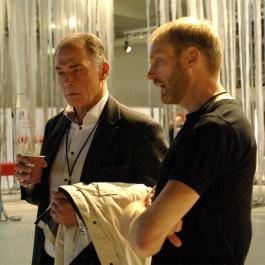 – Preqbi works with project-solutions and we are AV Stumpfl's general agents in Sweden. My background is as a filmer and photographer, which means that I can provide the customer with overall solutions when it comes to both production and presentation.
– At traditional technique trade fairs the visitors want to look at the switches on the backside of the projector. Here the visitors want to look at what we can achieve visually speaking, which I personally find more interesting, and that is why a trade fair like Studiobar suits me well.
Lars Wikström, Westmans Uthyrning (exhibitor and sponsor Studiobar 2015)
– Westmans lease and sell equipment to parties, conferences and events, so our customers are for the most part other companies. This is also why we are here at Studiobar; so we can meet the other enterprises. To us, the exhibitors are often the most interesting participants at a trade fair.